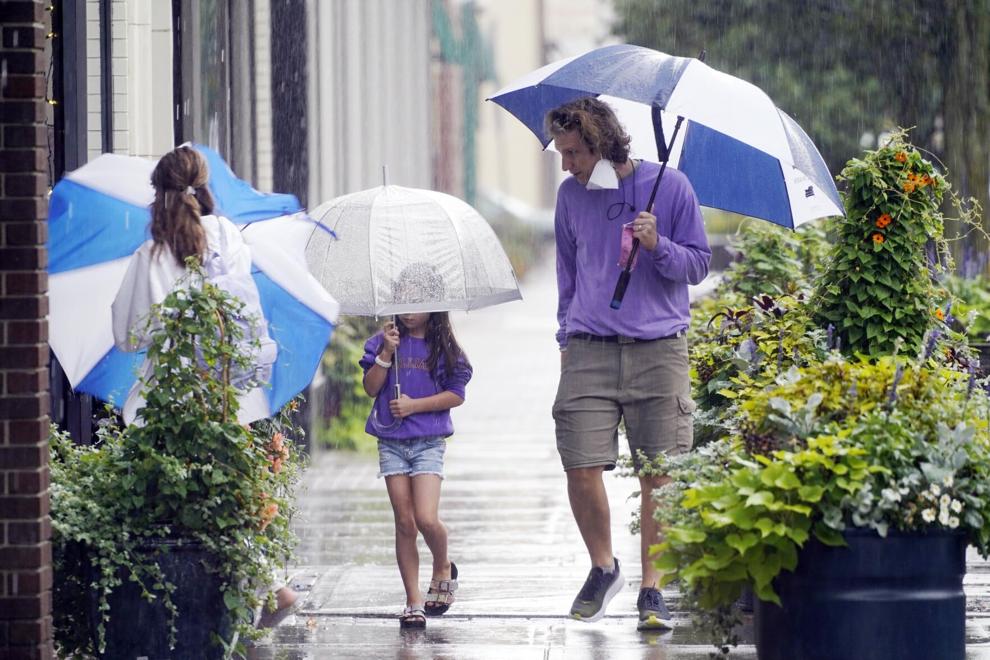 Henri, the former hurricane and tropical storm, dissolved into a pesky rainmaker on Monday, overstaying its extended visit to western New England and eastern New York.
Despite prolonged rainfall, the now-downsized tropical depression spared Berkshire County from its feared and forecasted severe impact.
After stalling and parking over New York's lower Hudson Valley near Poughkeepsie Sunday night, the ragged remnants of Henri finally crawled eastward toward a fatal rendezvous with the Atlantic off southern Maine and dissipation before reaching Nova Scotia.
As of 4 p.m. Monday, rainfall totals in Berkshire County ranged from nearly 3 inches in Becket and nearly as much in other hill towns down to almost 2 inches at the National Weather Service's Pittsfield Airport automated observation station.
Parts of North County saw even less rainfall — 1.2 inches reported by the weather service at Harriman & West Airport in North Adams and nearly 1 inch in Williamstown, though higher-elevation Savoy measured 2.1 inches.
Although Henri underperformed as a rainmaker, government forecasters were keeping an eye on possible minor river flooding, including the Housatonic at Coltsville in Pittsfield.
For the rest of the week, tranquil weather is on the horizon as summer-like heat and humidity return, with little if any rainfall until late Thursday and early Friday, as thunderstorms herald the approach of a slightly cooler and more pleasant air mass from central Canada.
On its eastbound trek, Henri stirred up a ruckus in central Massachusetts and Boston's western suburbs with several tornado sightings.
A minimal tornado raced through the city of Marlborough for nearly a mile just before noon Monday, touching down just west of I-495 with an estimated maximum wind speed of 65 mph. The National Weather Service said several eyewitnesses reported seeing tree branches lofted into the air. No injuries were reported.
The tornado was related to Henri's remnants, according to Andrew Loconto, a meteorologist with the National Weather Service in Boston. "The day after a tropical storm, the environment tends to favor the potential for brief tornadoes, and that's been the case today," he said.
Multiple people spotted the tornado in Marlborough and surrounding communities and posted videos of it to social media, the weather service noted.
The confirmed twister came after forecasters issued multiple warnings late Monday morning about possible tornadoes as storms rolled north through the MetroWest area and Central Massachusetts toward the New Hampshire border. The warnings were issued beginning at around 11:45 a.m. The last one was canceled around 2:10 p.m.
It was the third confirmed tornado in Massachusetts in less than a week. The weather service last week said that two small tornadoes hit the state Thursday, spawned by the remnants of Tropical Storm Fred.
Henri's underperformance as a rainmaker was fortunate given the recent runoff that has turbocharged area streams and rivers. A measuring station for water levels in the east branch of the Housatonic River, located in Pittsfield's Coltsville section, reported a discharge of 785 cubic feet per second, significantly higher than normal.